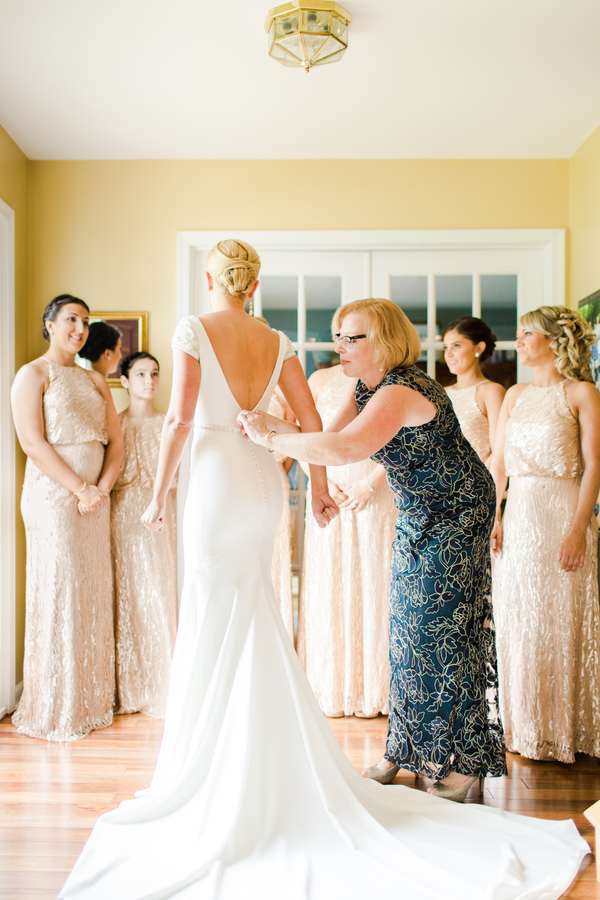 Caitlin and Mike are just great people. When you are around them, you feel incredibly welcomed and comfortable. They are always laughing and being around these two is just fun! The same is true about being around all of their family and friends. From the minute I stepped foot into Caitlin's parents' home, everyone was so friendly and accommodating. You can tell everyone in Caitlin's bridal party just adores her. Their reaction to her getting ready, all of her beautiful wedding details and her stepping into her dress was that of pure joy. Each and every one of Caitlin's bridesmaids expressed so much excitement for Caitlin and her husband to be. Even with the absolute downpour that was happening outside, everyone remained so calm and optimistic about how the day (and weather) would play out.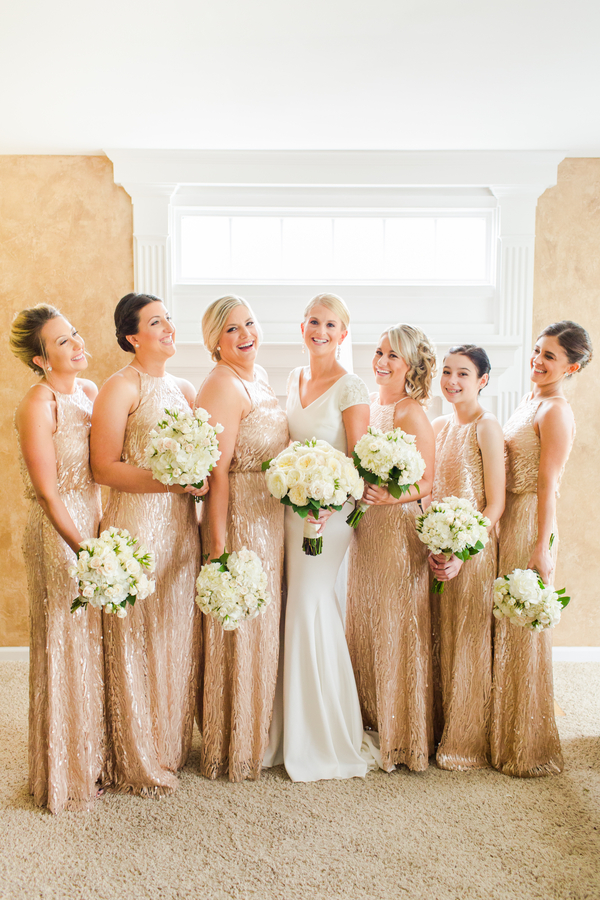 Caitlin had the most beautiful wedding dress. Both her Matron of Honor and her Maid of Honor described " that dress is so Her!". She selected a gorgeous, form fitting gown with crystal embellished capped sleeves. Caitlin chose a cathedral length veil to complete her look and it was stunning! The Donna Morgan sequin gowns in rose gold were so pretty and the color looked amazing on each of the bridesmaids. Maureen's did a fabulous job with the florals. Beautiful bouquets filled with fluffy Ranunculus and miniature roses in champagne were the perfect accent to the color scheme Caitlin chose. Yes, I had to look up those flower names!! The guys started their day with a catered brunch at one of Mike's favorite local bars, The Swanee House.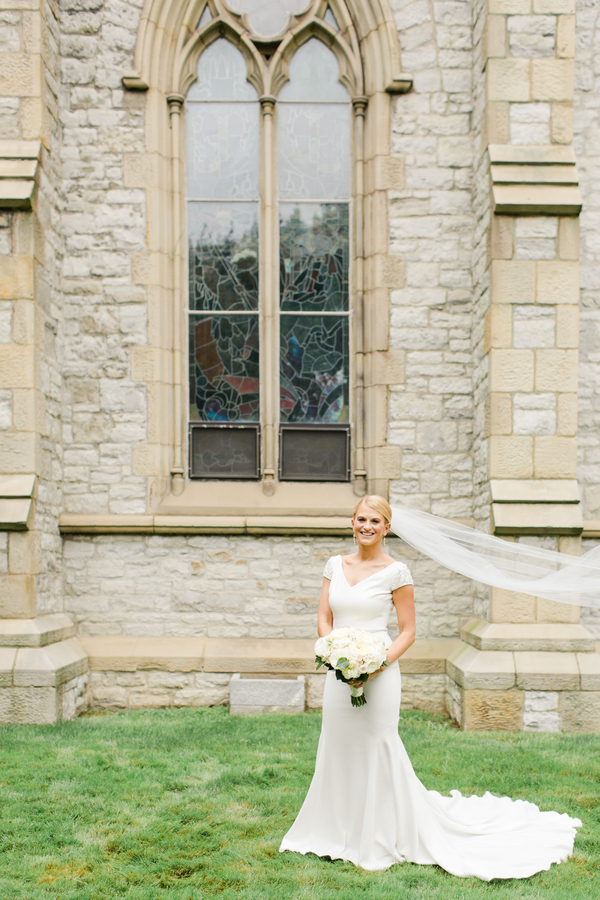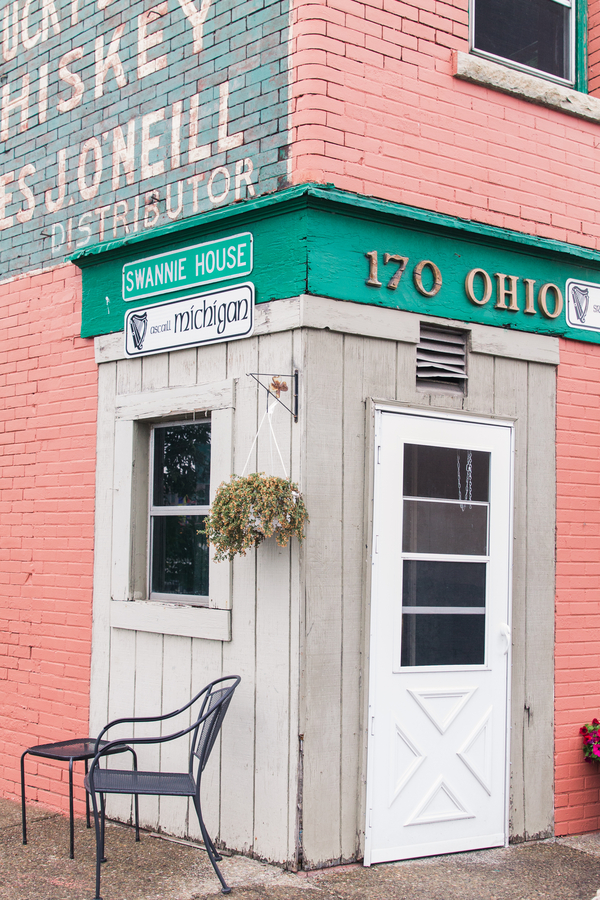 After kicking back in the morning, they quickly got ready to roll on over to St. Joseph's Cathedral where the festivities would begin at 12:00 sharp. All the guys sported tan Banana Republic loafers, which was a nice compliment to their navy suits. I have to give it to these guys, somehow, they arrived on time and everyone was wearing their rose boutonnieres come ceremony time!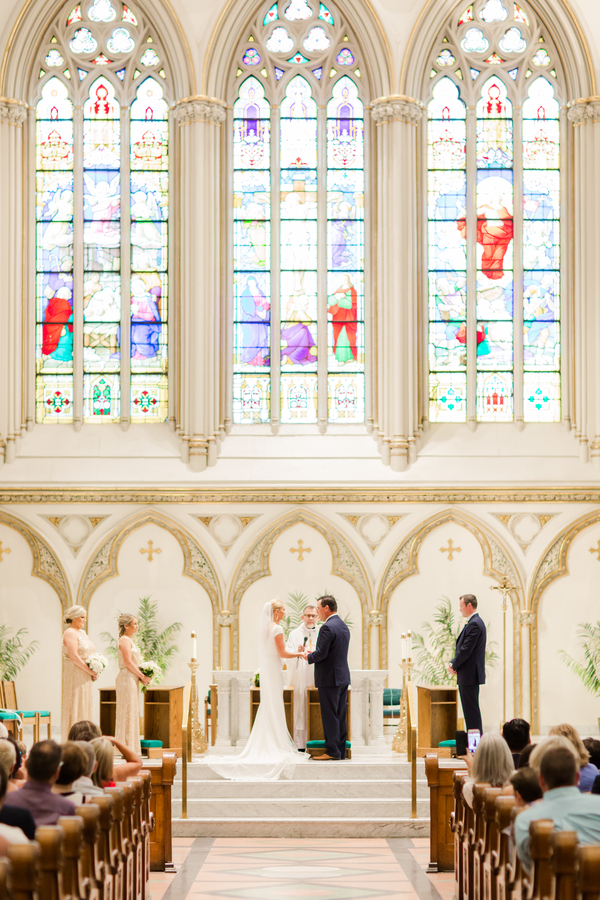 Mike and Caitlin tied the knot with a traditional Catholic wedding ceremony at one of the most beautiful churches in Buffalo, St. Joseph Cathedral. Noah and Olivia were adorable walking together as ring bearer and flower girl. Little Ava made it down the aisle and she knew she did a good job. She started clapping for herself and wanted everyone to join in! Mike got a little emotional when he saw Caitlin walk down the aisle and Caitlin was holding back tears when her father gave her away. It was all very sweet. After a lovely ceremony and some family photos on the wet grass, there were finally clear skies above. We decided to head to the rooftop of Caitlin and Mike's building for some wedding photos. What a good choice. They have some unbelievable views of the city and the colors were amazing.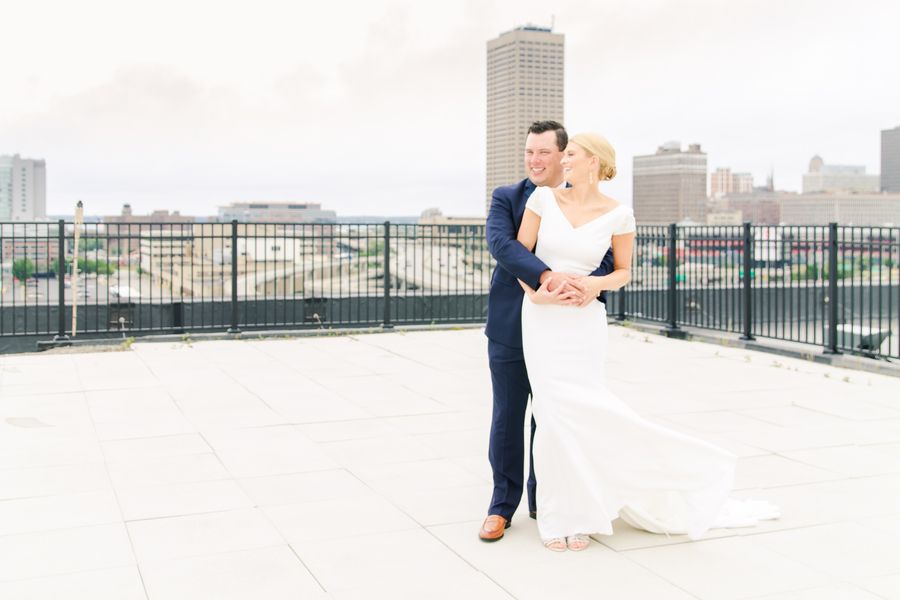 That rose gold and navy combo just popped up there, with all of Buffalo in the background! It may have been so windy that my hair tie flew out, but the wedding party hair stayed in place. Kudos to Liz Jackson and Diane Wright!! I'm so excited about those pictures up there. Yes, you can tell its windy, but it was fun! Apparently, it wouldn't be Caitlin and Mike's day without some form of hockey. After the rooftop, the limo went to the Harborside Arena to check in on the 11 Day Power Play hockey game and the entire wedding party made the news!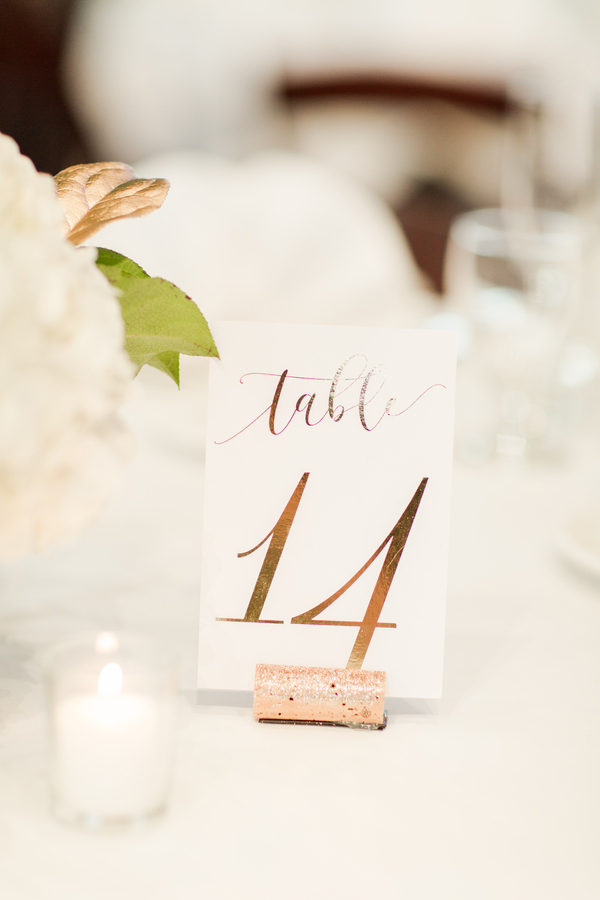 Cocktail hour was at Asbury Hall in downtown Buffalo. There were nearly 30 tables, adorned with white hydrangeas and gold floral accents, candle light and rose gold table numbers. The bridal party was announced and the newlyweds cut their elegant three tier cake from Muscoreili's bakery and played nice as they fed it to each other. They went right into their sweet first dance to a song by Thomas Rhett called "Die a Happy Man", sung acoustically by Steve Balesteri. It was beautiful as they laughed and sang to each other. This adorable couple had several heart felt speeches made in their honor. These emotional speeches made everyone both laugh and cry. The highlight of the reception decor was the edible portion! A huge dessert table featuring delectable treats baked by the mother of the bride and the bride's aunt. This dessert bar was a colossal success, the guests loved it! You know how the rest of the night went…Dancing, dancing, dancing! Everyone had a blast on the dance floor!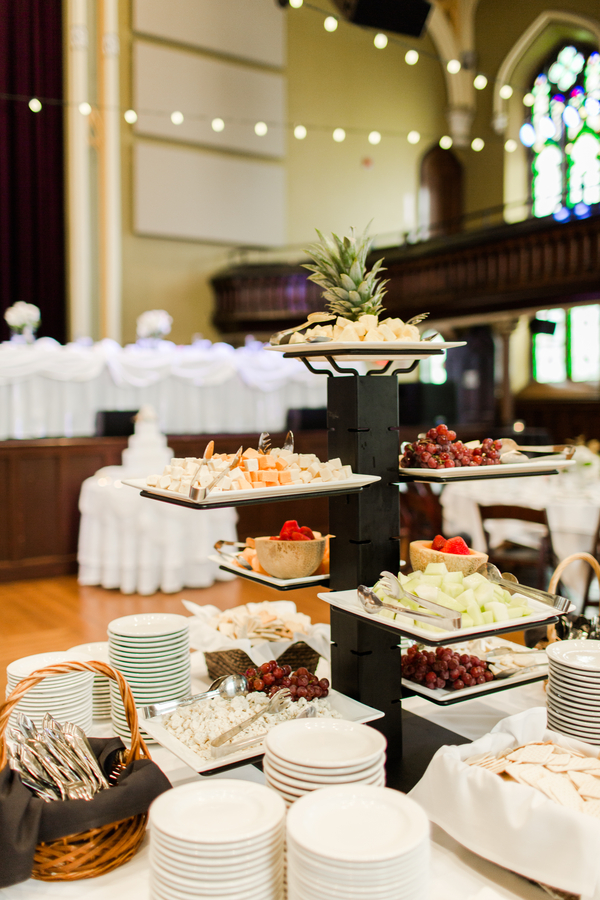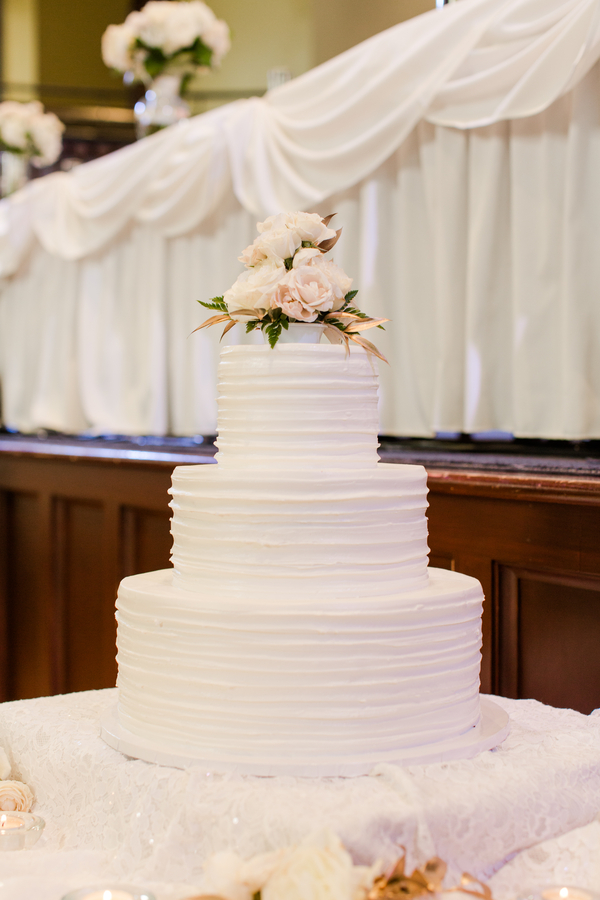 Rooted Love Photography
Second Shooter: Mary O'Sullivan
Wedding Dress: Bliss Bridal
Bridesmaid Dresses: Donna Morgan
Earrings: Kate Spade
Bridal Shoes: INC International
Hair: Liz Jackson and Diane Wright
Makeup: Blush Makeup and Hairstyling
Men's Footware: Banana Republic
Ceremony: St. Joseph Cathedral
Venue: Asbury Hall
Cake: Muscoreili's Bakery
Band: Steve Balesteri
Florals: Maureen's Wholesale Flower Market