Scrumptious Cakes & Desserts
Buddy Valastro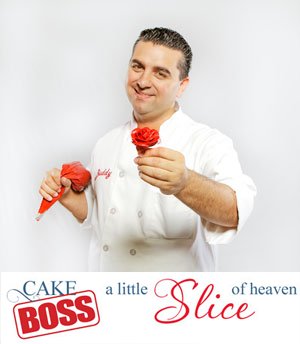 The Cake Boss
Buddy Valastro is an accomplished fourth generation baker born into the business owned and operated by his parents. At an early age, Buddy showed he was a natural by displaying his amazing talent for baking and cake decorating and running a business. They dreamed that together, they would make Carlo's Bakery a household name.
A Moment with Ron Ben-Israel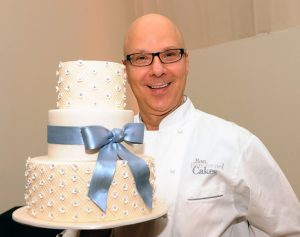 Are you a Sweet Genius?
As chef-owner of Ron Ben-Israel Cakes, one of the country's finest couture cake studios, Ron Ben-Israel has made cakes that have been hand delivered to destinations throughout the continental U.S. and abroad. Ron started his confectionery adventures after a 15-year career as a professional modern dancer. Upon retiring from performing with companies spanning three continents, he incorporated his art training, military background and ballet regime into the discipline of pastry arts.
Ideas to Steal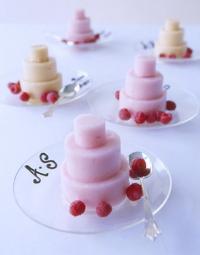 Steal these great Cake Ideas
Put a fresh spin on a tried-and-true favorite to make your cake a crowd-pleasing standout, like these individual sorbet desserts. We have compiled our favorite cake ideas to steal for you big day. From bright colors to individual cupcakes to classic mint. These ideas are sure to put a twist on the traditional cake idea.
Click here to view all the selections
Unique Cake Toppers
Finish your cake in style
Beyond the flowers, clinking of glasses, the dress, what tops off the event is a unique wedding cake topper. Here are our Editor's picks…
What's Trending for the Bridal Season?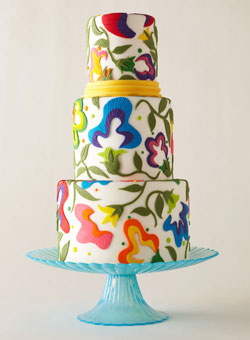 What's trending in cakes for this season? it's safe to say that 'the trend is there are many trends'!  That being said, cake decorating has diversified into an identifiable number of genres
Individual – a cake that reflects the bride's personality or interest/s – with or without a topper. This genre is naturally very broad and encompasses cakes reflecting occupations, ethnicity, hobbies, etc.
Metallic – Bold colour combined with a metallic element such as rose gold (currently popular) silver or yellow gold in themes such as rococo, art deco etc.
The hand painted cake. Arguably the most recent genre of cake to emerge and one which is still gaining in popularity, whereby the cake artist applies a design by hand using edible dyes.  These can take the form of a watercolour type wash over the fondant, through to intricate floral designs or stained glass effects.
Cake tips from the Pros
Sylvia Weinstock, that incredible baker of celebrity cakes, has some tips for selecting the perfect wedding cake and it makes sense! When planning a special event, it's hard enough deciding on the guest list and décor, but equally important is choosing a tasteful dessert that has visual appeal. Do you want a cake that is classic and traditional, or edgy and bold with a bit more visual.
What colors and shapes are in right now?
We're doing lots of octagonal and square-shaped cakes with rounded edges, and some that are made up of alternating round and square tiers. The color combination of the moment is definitely café au lait and pale pink.
What exotic flavors are in?
Nutella and tiramisu. Some wonderful flavor pairings, also, are white-chocolate mousse with hazelnut meringues, almond with caramel and, for summer, coconut with Key lime or blood orange is always delicious. One favorite has been chocolate and yellow cakes filled with caramel and vanilla crème.
Where do you get your inspiration?
From the bride and groom. I always encourage them to point out things they love, whether it's an old country inn where they once vacationed, or the arches in their reception room, or even the pattern on an heirloom tablecloth. Anything big or small that you love can become your starting point.
Do you re-create specific images?
I do a lot of cakes with embroidered patterns, often duplicating the lace on a bride's gown or wedding veil. But some designs aren't so literal. For example, instead of decorating a cake for a beach wedding with shells made of sugar, I might give the buttercream a pearlescent color, like the interior of a shell, and the edges of the tiers a wavy look, to resemble the ocean.
What should a couple look out for?
Wanting too much decoration. I love an ornate cake, but you need to make sure that you don't have all of these elaborate elements—drapes, bows, embroidery, sparkles, flowers—fighting each other. You don't want your cake to have that "I'm wearing all of my jewelry at the same time" feel.
Wedding Cake Boot Camp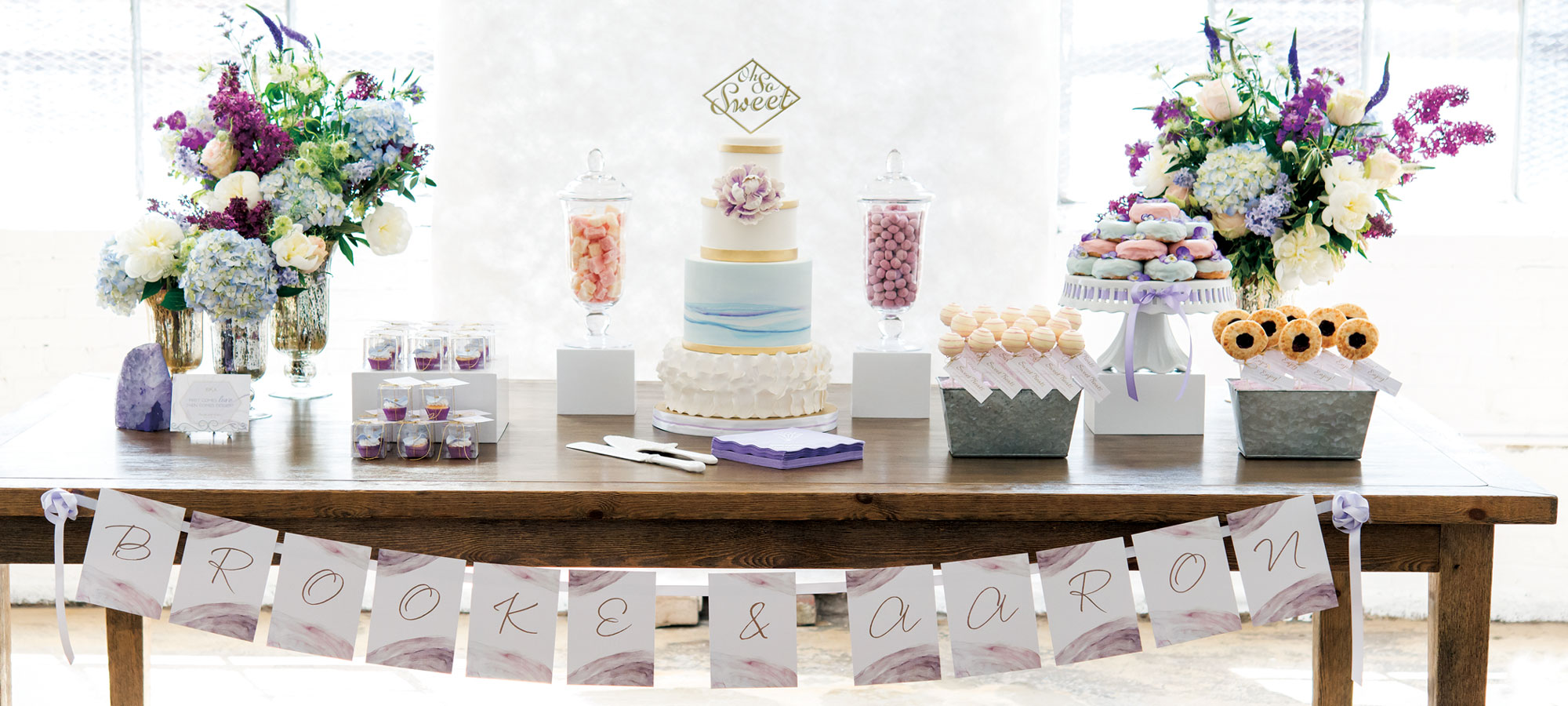 Sitting down with your future hubby for a decadent cake tasting is one of the best perks of wedding planning. But it's important to know a little wedding cake lingo to help you make the right decisions when it comes to your big day dessert! Is fondant for you, or will buttercream be better? From icing options to the decorative details, get schooled on these key cake words.
Fondant
Fondant is a very popular icing choice for wedding cakes. Its consistency is smooth, firm and elastic. Made of sugar, corn syrup and gelatin, fondant is rolled out and then draped over a cake creating a porcelain finish. Fondant keeps a cake fresh for days and can withstand heat (take note summer brides!). Known for its durability, fondant can be molded into beautiful decorative accents, creating a modern, sleek wedding cake design.
Buttercream
Unlike firm fondant, buttercream is a soft, creamy icing that easily smooth's over a cake. This blend of sugar, eggs and butter is a delicious,versatile wedding cake finish. Buttercream is the perfect consistency for decorating and fillings as well. But beware of extreme heat! If you're having an outdoor summer wedding, light, fluffy buttercream frosting may not be the best choice.
Ganache
Denser than mousse, this rich mixture of chocolate and heavy cream can be used as a glaze, filling, or spread over an entire cake as icing. Brides and grooms who love their chocolate will really go for ganache!
Piping
Bakers use piping techniques to add detail to their wedding cakes. A pastry bag is used to squeeze frosting through a narrow opening to create beautiful decorative designs like petals, flowers, leaves, rows of dots, swirls, and more. Piping can create dramatic designs over the entire cake, or add subtle, sweet details. It's all about your personal style. So be sure to discuss the look and feel you're going for with your cake maker.
6 New Wedding Cake Trends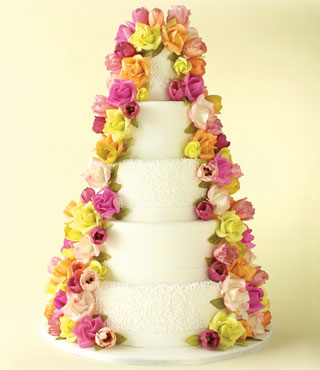 Back to Buttercream
Buttercream was once the traditional frosting for wedding cakes, but sleek cakes came into favor, and rolled fondant became the frosting of choice. Not any more – thanks to advanced tools and techniques that allow buttercream to look as smooth as fondant, cakes iced in buttercream are again the norm. We love this trend, since buttercream frosting tastes better, has natural ingredients, and costs less than fondant.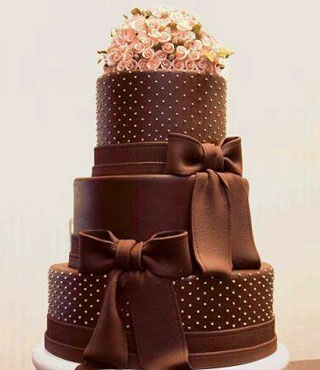 Chocolate Face
Brides have bucked the traditional white wedding cake for the last few years, but today´s brides are no longer hiding appearances sake. Dark chocolate is now front and center on the face of the cake, as chocolate or mocha cakes are appropriately decked in chocolate mousse or whipped chocolate frosting. The result is a full blown chocolate dessert that tastes as good as it looks.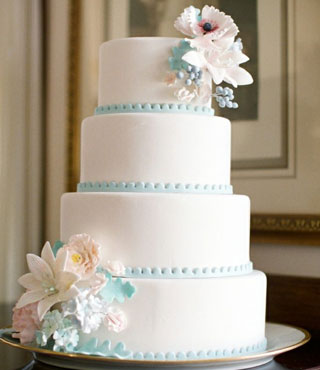 Blue Rules
Shades of blue dominate the wedding décor palette, and your wedding cake is a perfect canvas to incorporate this hot shade. Consider a cake saturated in turquoise, periwinkle, or even navy, and embellish it with complimenting colors like silver, white, grey, lavender, or yellow.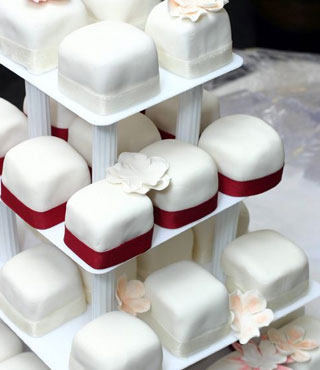 Square Mini-Cakes
Cupcake towers in lieu of wedding cakes have been around for awhile, but brides are making cupcakes interesting again by playing with shape and size. Brides are stacking square shaped mini-cakes (slightly larger than cupcakes) adorned with flowers or dressed as presents for a completely different take on the cupcake frenzy.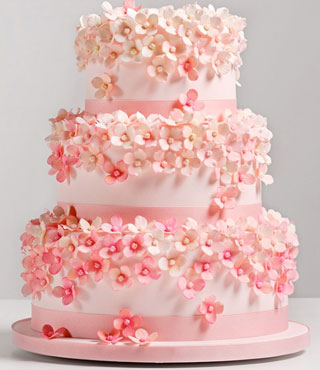 Think Pink
Pink – the perpetual hot color for weddings – had begun to fall out of favor as brides experimented with more non-traditional hues like browns, grays, orange, and even black. But pink is back in a big way, and brides are incorporating the hue into their wedding cakes. Pink instantly freshens-up classic white: Tone down an all pink cake with white floral or lace details, or dress up a white cake with pink embellishments.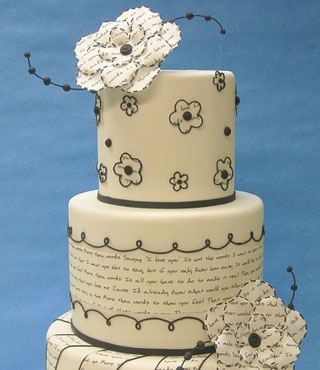 Scripted Text
Wedding cakes adorned with calligraphy-style motifs and writing is one of the year´s hottest trends. Create an antiqued look with black writing on a white or ivory cake, and get creative with the text. Some options? Write a favorite poem or verse, your wedding vows, or words representative of your wedding theme – such as names of flowers for a garden wedding or types of shells at a beach wedding.