WEDDING FLORALS
Choosing Your Flowers
Choosing wedding flowers that fit your style and petals that match your color palette isn't always easy — especially if you don't know a dahlia from a daisy. Here's everything you need to know about the most popular wedding flowers (cost, season, meanings, and color choices), plus hundreds of photos of each bloom in bouquets, centerpieces, and boutonnieres from real weddings.
Not to put the pressure on, but flowers are kind of a big deal — they can set the tone for your entire party. So before you make any quick decisions, take a little time to explore what's hot.
FLOWER MISTAKES TO AVOID
Not trusting your florist
"Communicate your vision, likes, dislikes, and expectations but have a little flexibility and be comfortable with substitution. We want to make your wedding absolutely breathtaking. So relax, put trust in your vendors and remember why you hired that amazing talent!"
Not reusing ceremony arrangements
"Aisle flowers can become centerpieces and altar pieces can be moved to the buffet table. The ceremony usually only lasts about half an hour — it's a shame to see so many flowers only being used for that amount of time when they could easily be incorporated into the reception decor!"
Booking your florist last
"Couples should begin the process of booking vendors by speaking to one vendor from each category before booking anyone. This way they can get an idea of what things cost and perhaps they could budget better."
Using only one color
"A lot of brides try to match the flowers to the bridesmaid dresses. A bridesmaid in a lavender gown with lavender flowers will make for very disappointing pictures. Flowers are a great place to choose an accent color — for example, a lime green against a lavender gown will bring out the best in both colors and make for fabulous photos."
Forgetting to budget for flowers
"Most brides find that flowers are an important part of their day but forget to include them in the planning from the start. When I have a budget and a theme, I am really able to advise them better right from the beginning."
Best Boutonnieres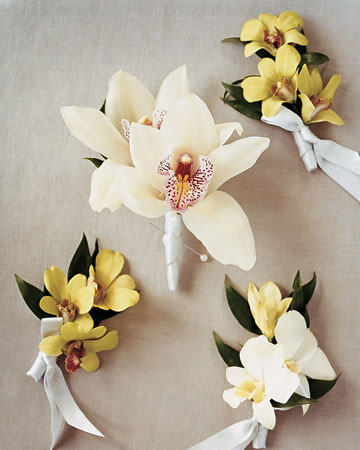 Garden
Nature offers vibrant colors and textures that can be woven into a wedding in unexpected ways.
These boutonnieres consist of hydrangea and hypericum berries; chamomile, trachelium, and mahonia leaves; and unripe blueberries and mahonia.
Hug-Proof
A boutonniere can stand only so many hugs. All that love plus heat and lack of water can leave flowers wilted.
Ask your florist to make two boutonnieres for the groom one for the ceremony and one for pictures. Some florists will provide the extra one at no cost.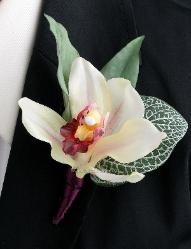 Orchid
At this wedding, the groom wears a cymbidium orchid boutonniere. The single orchid flower will make quite a statement.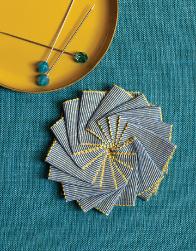 Medallion
The medallion shape, pleated and flattened, evokes the look and feel of parade bunting and the pride of winning first prize.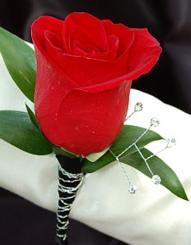 Single Rose
A perfect-shaped rose makes a handsome boutonniere when accented with crystal beads and the stem wire wrapped.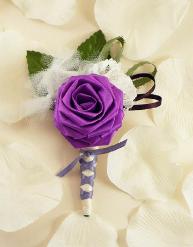 Fabric Lilac
Decorate groomsmen's lapels with fresh and fabric boutonnieres tailored to an autumn affair. Pick one design or mix and match. The leaves are made of handsome textiles, including felt, wool-suiting fabric, and corduroy; the patterns mimic the veins of real leaves.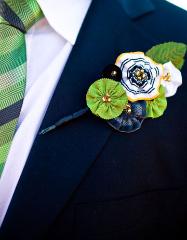 Ribbon Flowers
Boutonnieres made of ribbon have endless design potential. Create them for your groomsmen with ribbon that matches the bridesmaids' dresses or the ribbons around their bouquets. Give them a masculine feel by using a striped, plaid, or checked pattern.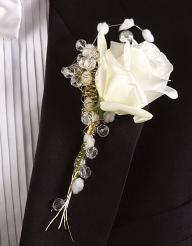 Beaded
The groom and groomsmen will have a special keepsake if they wear these everlasting beaded
boutonnieres. You will need vintage or new beaded leaves and pearlescent floral pins, along with floral tape and green double-sided seam binding. Cluster three or four sets of beads together with three leaves.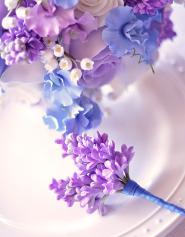 Match the Bouquet
These lavender boutonniers perfectly match the bridal bouquet. Have the florist use the same prominent flower from her bouquet.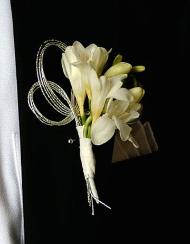 Japanese Knot
For this unique wedding, boutonnieres made of white nerines are tied with silk ribbon. Each is pinned to a knot of Mizuhiki cord, created using a Japanesse knotting technique believed to bring the recipient good luck.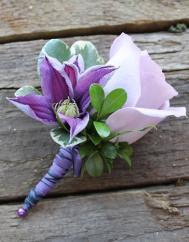 Single Clematis
A simple clematis bloom, tied with satin ribbon, is the boutonniere for the best man. Add a single rose to the groom to make him stand out.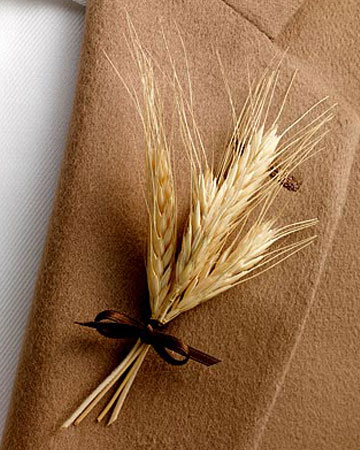 For Fall
Incorporate the shades and symbols of autumn into festive boutonnieres. Use wheat stalks tied with an elegant dark brown ribbon to bring out the pure essence of the season.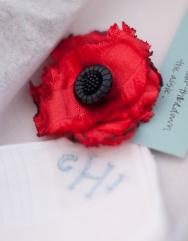 Monogrammed
For this carnation boutonniere, simply cut a swatch of fabric in the shape of a leaf and stitch your groom's first initial. Add a simple monogrammed card to the accent.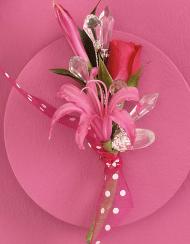 Nerines
Pink nerines and viburnum leaves with a button decorating the pink polka dot ribbon bow.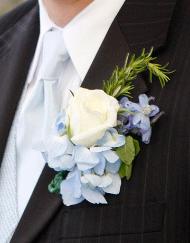 Hydrangea
Blue hydrangea blossoms bound in lilac floral tape with print fabric knotted around the stems.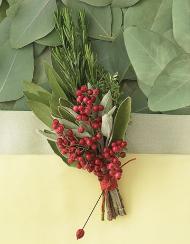 Pepperberries
Pepperberries, sage, bay leaves, and sprigs of rosemary secured with waxed linen thread and a ladybug pin.
Boutonniere Etiquette
The boutonniere is usually a selection of one or two small flowers on their own or with a bit of fern, greenery or baby's breath.
It is worn mostly for formal occasions such as a wedding or prom.
The boutonniere is always pinned to the left lapel of the suit or tuxedo.
The groom, best man, groomsmen, ushers and fathers of the bride wear boutonnieres.
If the bride has someone else escorting her down the aisle, he should also wear a boutonniere. If a woman escorts the bride she should wear a corsage.
You can make the groom's boutonniere stand out from the rest of the boutonnieres, by selecting a different color for him.
If you prefer the groom and his attendants to wear the same color flower, request that the groom's be made with a double flower.
Creative Bouquets – Beach Florals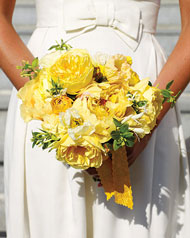 Yellow Bouquet
This sunny bouquet includes golden peonies, garden roses, honeysuckle, ranunculus, and poppies.
Island Bouquet
Lush leaves from the Caribbean, such as galax, papyrus, and areca palm, are combined to create this tropical bouquet.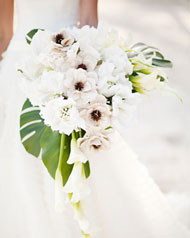 Tropical Bouquet
Elephant ear leaves give a seashore vibe to this mix of calla lily and papier-mache blooms for an arrangement that has a decidedly island feel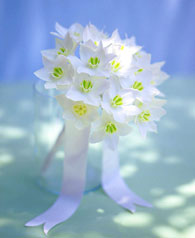 Casual
This simple bouquet, composed has a carefree look that's perfect for a casual wedding.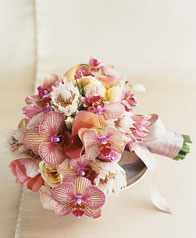 Pink Bouquet
The intricate pink pattern on these phalaenopsis orchids adds a playful touch to this bouquet of calla lilies, blushing brides, nerines, and garden roses.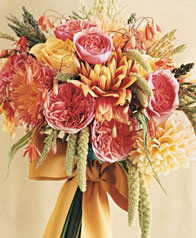 Pink-and-Orange
The sun-kissed hues and varied shapes of spiky orange dahlias, soft-pink garden roses, hanging millet, and coral drops give this bouquet a tropical feel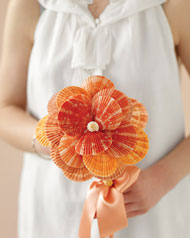 DIY Bouquet
It's easy to create this non floral bouquet using petal-like shells in various summery hues. Check out how to create this bouquet at our DIY page.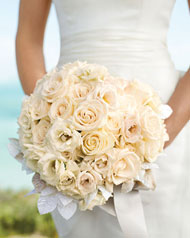 Classic Bouquet
Lush white roses and velvet millinery leaves make up this traditional bouquet that is perfect for a seaside or other casual affair.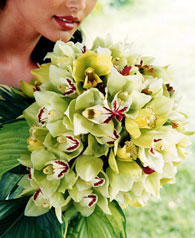 Green Bouquet
Dramatic chartreuse flowers and spotlight in this explosion of cymbidium orchids, gloriosa lilies, leucodendron, and hosta leaves.
Ways to Wrap a Bouquet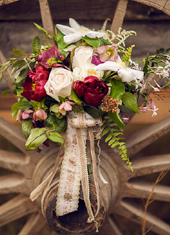 Add an Antique Ribbon
For a vintage-inspired farm wedding, the Mississippi design studio Tulip created a rustic bouquet filled with peonies, jasmine, astilbe, ferns, fritillarie and roses. An antique ribbon in a woodsy hue tied the look together.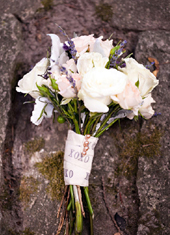 Get Cheeky!
When asked about her favorite moment from the couple's handcrafted wedding, this bride cited "our first kiss as husband and wife."Appropriately, her rose and lavender bouquet was wrapped in a whimsical xoxo-printed ribbon.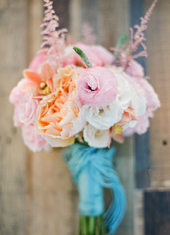 Consider Colored Yarn!
A punch of color in the form of blue yarn added a DIY touch to this delicate bouquet of peonies, ranunculus, veronica, astilbe and lisianthus designed by Poppy Love Weddings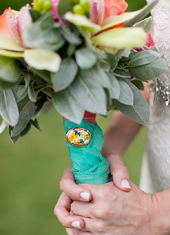 Incorporate a Brooch!
For her destination wedding in Vieques Island, Puerto Rico, the bride picked a colorful bouquet of peach, pink and ivory roses mixed with cymbidium orchids and hypericum berries. Turquoise ribbon and a floral brooch added an elegant touch.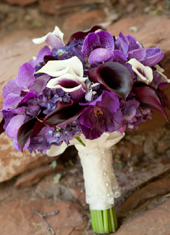 Layer Lace and Ribbon!
This bride's favorite hue, eggplant purple, inspired her mostly monochromatic bouquet of violet orchids, hydrangea and Calla lilies. The stems were wrapped in a piece of lace layered over white ribbon.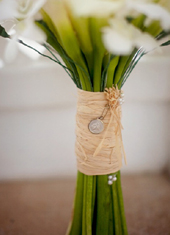 Combine Different Textures!
An all-white, long-stemmed Calla lily bouquet was what this bride requested for her destination wedding in Montego Bay, Jamaica. The traditional bouquet came with a twist: It was tied with raffia and pinned with pearls.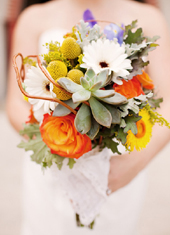 Borrow a Hankie
Count this as your "something borrowed" and call it a day. A vintage handkerchief makes for a charming bouquet wrap.
Tie It Up with Twine!
Wildflowers pulled from the Arizona landscape were used in this rustic wedding bouquet tied with pink and brown twine.
Let it Shine!
The theme of this sophisticated winter wedding was gold and silver, so naturally the bride's bouquet was wrapped in sparkling metallic ribbon. The Utah-based floral designer, Branches, composed a classic bouquet out of roses, anemones and peonies.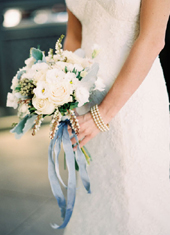 Think In Pairs!
Clusters of dahlia, lisianthus, garden roses, blushing bride, dusty miller and silver brunia comprised this bride's soft white bouquet by Blossom and Branch. Two pale blue ribbons fell from the stems, adding a pop of color to the couple's otherwise monochromatic color scheme.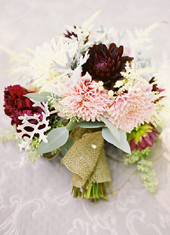 Rough It Up
Janie Medley Flora Designcrafted this dahlia, dusty miller, astilbe, and seeded eucalyptus wedding bouquet for a barn wedding. The swag of burlap is a nod towards the wedding's rustic theme.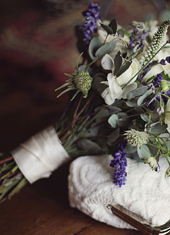 Keep it Simple
Ivory ribbon was all this bouquet required to keep the look crisp and classic. The bride worked with Marianmade Farm Fresh Florals to design a wedding that "highlighted all the colors of fall, the rustic elegance and purity of Maine, while remaining organic to our vintage style."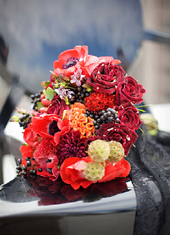 Don't Shy Away from Drama
Black lace takes this bold bouquet, designed by Denise Fasanello Floral Design and filled with anemones, Hocus Pocus roses, dahlias, scabiosa, celosia, ligustrum, and hypericum, from day to night.