Choosing a color palette for your wedding sets the tone of your special day. Florida Bride Magazine has researched and set up this page to guide our Brides with color selection. Try to keep your colors to no more than three. Different shades of the same color can be use to give the illusion of multiple colors. The color palettes can be just about anything you want.
David Tutera on Whimsical Colors
Now that you are selecting your colors, David Tutera says keep it whimsical. What ever the color palette you choose have fun with it and make sure your bring out your true self. After all it is your Wedding Day!
Colin Cowie on color with lighting
Let's not forget how ambient lighting can add to your color palette. Celebrity planner Colin Cowie shows you how to add that color to your Wedding Day!
Perfect Color Combinations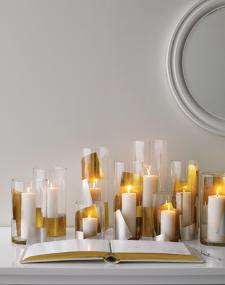 Golden Guest Book Table
There's nothing more romantic than building your big day around colors that celebrate your future. Each of these precious metals represents a milestone wedding anniversary: copper for seven years, silver for 25, and gold for 50. This easy yet elegant idea transforms an often overlooked spot into a glowing focal point. For a gold-leaf effect, affix candy wrappers with silver backing to the outsides of glass hurricanes using spray adhesive, then pop in pillar candles. You'll need: Sugarcraft foil wrappers in two sizes. Jamali Garden Supplies glass cylinders and candles.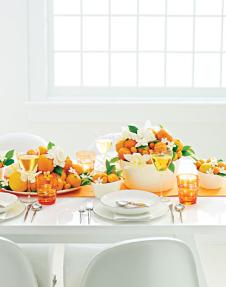 Wintery Citrus
Juicy winter citrus fruit was the inspiration behind this cheery duo. To replicate the centerpiece (which was created by Quatre Coeur), fill white bowls and platters with navel oranges, clementines, and kumquats. For contrast, add lemon leaves and white gardenias, orchids, and stephanotis. Complete the look with an orange table runner and water glasses. The Details: Richard Ginori "Eclissi Platinum" dinnerware and "Oblique" wineglasses. Cutipol "Moon" flatware (shophorne.com).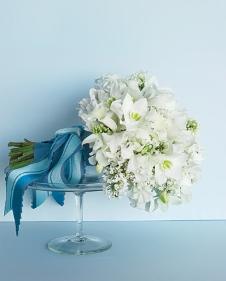 Blue and White Bouquet
White makes right in this elegant and undeniably feminine bouquet, in which butterfly-like sweet peas flutter between bright white Amazon lilies. Delicate hand-wired cattleya orchids flaunt their milky ruffled edges among flirty sprays of fragrant white lilac. Tied in a loose, languorous bow, a wide striped vintage ribbon of steel and slate blues decorates the slender stems wrapped in grosgrain. Bouquet by Belle Fleur of New York City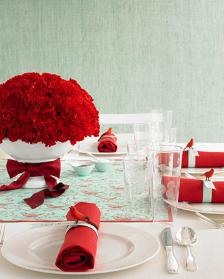 Red & Aqua Tabletop
Bold accents pop against white table linens, chairs, and plates. The inspiration for this table setting — a beautiful sheet of wrapping paper — is showcased at the center; we wrapped its edges with cotton ribbon (secured with double-sided tape) to give it a finished look. Around the napkins, strips of aqua paper emblazoned with red calligraphy form place cards. Millinery birds, reminiscent of the birds on the paper, perch on top (their feet are secured to the paper band with adhesive dots). In the centerpiece, vibrant red carnations, arranged in a tight dome.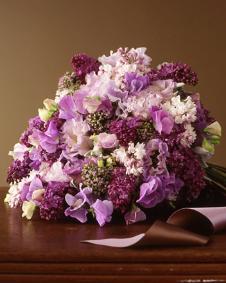 Lilac and Brown Bouquet
This bridal bouquet is overflowing with fragrance and texture. Ruffly sweet peas and tumbling lilacs, ranging from deep purple to almost pink, suggest romance. Tucked in between are more sweet peas in creamy whites, plus lamb's ear, oregano blossoms, and lisianthus. Two-tone ribbon binds the stems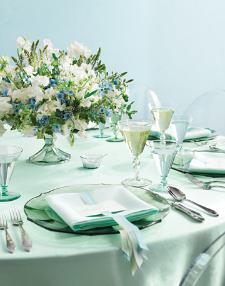 Seaglass Color

Make your wishes transparent with tinted glass plates and goblets — in lieu of heavy crystal and traditional china — that mimic the look of sea glass. Add a swell arrangement of sweet peas, tweedia, and muscari to complete the effect. To embellish place cards with streamers, cut slits in a card with a utility knife and weave ribbons through. Wrap around a napkin, leaving ends long for a loose, layered effect.